Chiropractor Alicia Savino D.C.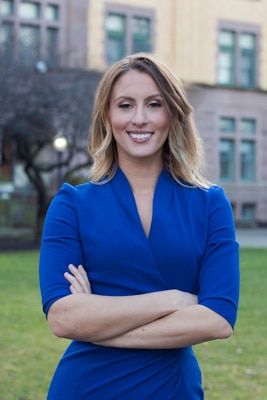 Dr. Alicia Savino grew up just south of Delmar in Greenville, New York. After graduating from Greenville High School, she attended Northeastern University, graduating in 2004 with a degree in behavioral neuroscience. She continued her education at the Center of Natural Wellness School of Massage Therapy and became a licensed massage therapist in 2005. She received her chiropractic degree from New York Chiropractic College in 2009 and has been practicing in the capital district since that time.
Dr Savino continues to further her education in both Chiropractic Care and Massage by taking continuing education classes regularly. Most importantly to her, she has completed extensive training in the care of the pregnant patient; she is certified in the Webster Technique through the International Chiropractic Pediatric Association.
Dr. Savino became interested in chiropractic after suffering from severe back pain while playing sports in high school. She discovered that chiropractic allows the body to heal itself and function more efficiently without the help of drugs or invasive medicine, and decided to pursue a career in the field.
She enjoys caring for the whole family and uses a variety of techniques to best suit each individual patient.
"I like to meet with the individual and come up with a plan for just for them. I combine my education in chiropractic care and massage therapy to address all aspects of each patient's unique complaints. I truly love helping people not only feel better, but be able to function at their fullest capacity. I know how much being adjusted and balanced has improved my own life and I want to share that with my community."
OFFICE HOURS
---
Monday
7:00am - 6:00pm
---
Tuesday
12:00pm - 7:00pm
---
Wednesday
7:00am - 6:00pm
---
Thursday
10:00am - 7:00pm
---
Friday
7:00am - 1:30pm
---
Saturday
Closed